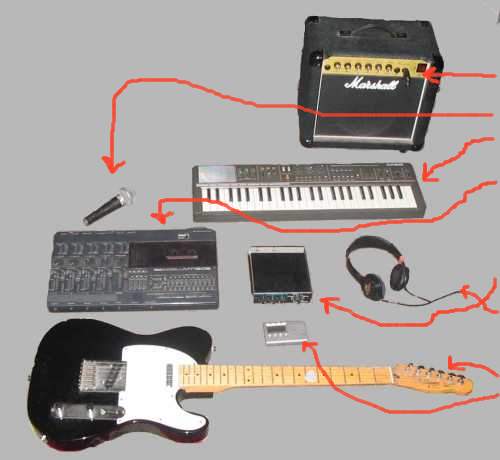 Here's some of the equipment I used to record Fifth Column. Main thing not pictured is Stu Bastiman (drummer) and his drums.

Marshal Reverb 12 guitar amp: I record using the "line-out" with headphones so I don't bother the neighbours.
Shure sm58 microphone: It's a good all-rounder and is quite forgiving.
Casiotone mt68 keyboard: gives "Come In" its drum and organ sounds. Beck has one of these, in white, and King Creosote has one too.
Yamaha MT120s 4-track cassette recorder: It's got double speed and the essential bounce function. Good warm, hissy tone. No seperate EQs on each channel though. More fun than a computer. These are £20 on ebay these days, if you think you'd enjoy making some songs.
Alesis Microverb (mark2): For that budget faraway effect.
JVC HA-D600 headphones: Good and punchy for treble. I sometimes think the left ear is quieter than the right. I mixed 5thC on headphones and it sounds better played on them than out loud.
Squier Telecaster (Korean) guitar: does the trick.
Korg guitar tuner: I used this for ages, then the Boss footpedal one. Mostly using a phone app tuner now.